We're looking forward to some great times at GenCon this year. Find us in the Exhibit Hall in Booth 713, next to our old boothmates Pagan Publishing and Dagon Industries. (As of May 21, the map mistakenly does NOT include Arc Dream Publishing but GenCon has said they'll correct that soon.)
Find us there to talk about our games, tell us about your experiences with them, and take a look at our latest work — Delta Green, Better Angels, The Unspeakable Oath, Godlike, and all the rest. Dennis Detwiller, Greg Stolze, and Shane Ivey will be on hand to talk shop, and of course Adam Scott Glancy with Pagan Publishing will be telling amazing stories nearby. Our old friends John Marron, Simeon Cogswell and Kevin Pezzano will run the Arc Dream booth. Our frequent co-conspirators Ross Payton and Caleb Stokes from RPPR will be running games and showing off their own work at the Arc Dream booth too. We can't wait to see you there.
See the full Exhibit Hall map here.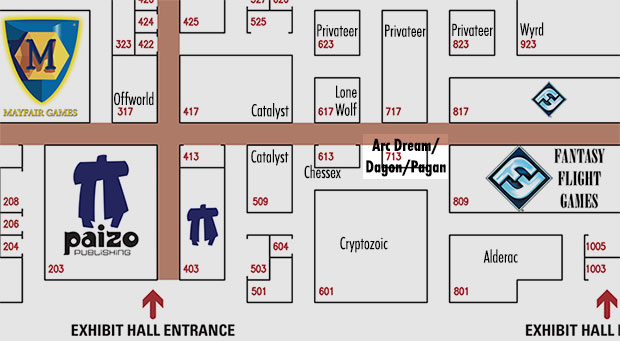 Games and Seminars
We'll have the new Delta Green RPG in some form at the show, so we have a great batch of Delta Green-related games. We also have games of Better Angels, Godlike, Base Raiders and The Kerberos Club (both running the Strange Fate system we developed for the Fate edition of The Kerberos Club), and even a game of Elder Godlike, the Godlike/Call of Cthulhu/Achthung! Cthulhu mashup we're putting together with Modiphius Entertainment.
All of those games sold out as soon as event registration went online, but don't despair. Get some generic tickets. If you have your heart set on a particular game, show up anyway. Sometimes registered players don't show up despite getting tickets. If there's a space, usually the GM is happy to let you take it and turn in generic tickets.
And we're hosting two seminars. One is an overview and Q&A on the Delta Green RPG and what we do in that game to fit its version of the Basic Roleplaying engine firmly in the War on Cosmic Terror. The other is a Delta Green scenario workshop, where the authors give their tips for scenario design and work with you to draw up new horrors for your game table. Remember to register for seminar attendance—it's free—and turn your tickets at the seminar! That's our only way to prove how many fans attend our events.
Click here to see all Arc Dream events at GenCon 2014. You'll need to log in to GenCon's site first.
Thursday Events
Friday Events
Saturday Events
Sunday Events