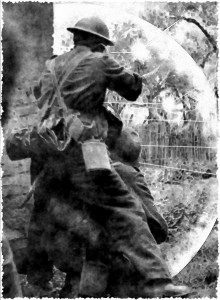 Arc Dream Publishing is proud to present The Courtyard of Hell, a full-length campaign for the  superpowered World War II RPG GODLIKE: Superhero Roleplaying in a World on Fire. Written by Allan Goodall (Black Devils Brigade, This Favored Land), The Courtyard of Hell is a 160-page adventure of harrowing urban warfare in the Italian campaign.
"It wasn't hell. It was the courtyard of hell. It was a maelstrom of noise and hot, splitting steel… the rattling of machine guns never stops… wounded men refuse to leave, and the men don't want to be relieved after seven days and seven nights… the battlefield is still an appalling thing to see, in its mud, ruin, dead, and its blight and desolation."

–Matthew Halton, War Correspondent
Canadian Broadcasting Corporation
It's late December, 1943, just after the bloody crossing of the Moro River. The players' superpowered Talents accompany the soldiers of the 2nd Brigade, the Loyal Edmonton Regiment, the Seaforth Highlanders of Canada, and Princess Patricia's Canadian Light Infantry, as they attempt to wrest the town of Ortona from a regiment of elite German paratroopers. It's a battle so ferocious that Churchill will call it "Little Stalingrad." It's a battle that the survivors will never forget.
The Courtyard of Hell includes:
Guidelines for character creation and seven pregenerated characters, ready to play.
Tips for presenting large-scale combat scenes.
New Canadian and German weapons and vehicles.
"One Roll Cityfight" rules for detailed encounters.
Enough adventures for months of thrilling gaming.
Illustrations by Todd Shearer, Allan Goodall, and Alana Goodall; page design by Simeon Cogswell; editing by James Knevitt and Shane Ivey.
The Courtyard of Hell is available in PDF and in paperback with a free PDF download. It will be available in stores in late 2013.
Even better, the PDF of The Courtyard of Hell will be sent free, with our gratitude, to backers of the 2011 Kickstarter campaign that funded the new paperback and PDF edition of GODLIKE.
Check your ammo and get ready to march. "Little Stalingrad" awaits.
The Courtyard of Hell is shipping now.