Yet another amazing tool for your Kerberos Club campaign (whether Wild Talents, Savage Worlds, or Fate) is now online. The National Library of Scotland's Map Department has taken high-resolution scans of detailed maps of Victorian London and put them online so they can be keyed to Google Maps and other tools. The detail is stunning.
Here's a sample — with the Club's location noted by me, since the mappers mislabeled the original. Whether that was the Club's own doing or some Special Branch plot, I have no idea. Click to zoom.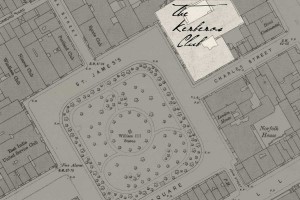 There's more background at mappinglondon.co.uk.