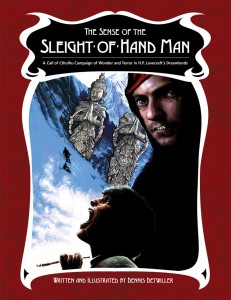 The Sense of the Sleight-of-Hand Man is now available in PDF! The Sense of the Sleight-of-Hand Man is a 294-page campaign of wonder and terror for Call of Cthulhu (Sixth Edition), written and illustrated by Origins Award-winning author and illustrator Dennis Detwiller (Delta Green; Delta Green: Through a Glass, Darkly) and edited by Ennie Award-winning editor Shane Ivey (Delta Green: Targets of Opportunity; The Unspeakable Oath).
Click here to order it in PDF, or here to order it in paperback with an instant, free PDF download. The paperbacks will start shipping around August 5, 2013.
Set in H.P. Lovecraft's Dreamlands, The Sense of the Sleight-of-Hand Man follows the adventures of Dreamers from 1925 New York who become trapped in the Dreamlands. They must travel the breadth of this impossible, fantastical world to find a way back to the lives that they left behind. But can they survive the countless dangers of a world of dream—and the strange emnity of Nyarlathotep, the messenger and soul of the Outer Gods, when they fall under his capricious gaze?
Contents:
Foreword
Chapter One: Character Creation
Chapter Two: Mr. Lao
Chapter Three: Life In a Dream
Chapter Four: Sarkomand
Chapter Five: Travel by Sea
Chapter Six: Wandering
Chapter Seven: The Underworld
Chapter Eight: Inquanok
Chapter Nine: Lhosk
Chapter Ten: Ilek-Vad
Chapter Eleven: Sarnath
Chapter Twelve: Ulthar
Chapter Thirteen: Return to Earth
Appendix A: New Spells
Appendix B: Prisoners of the Ebony Temple
Index
Steady your nerves, if you can, and close your eyes to the waking world. Sarkomand awaits.