Arc Dream Publishing and Modiphius Entertainment have joined forces to bring the superhuman powers of Godlike to the pulp-horror world of Achtung! Cthulhu.
Achtung! Cthulhu: The Power of the Gods is a 128-page supplement for Achtung! Cthulhu. The first half, written by Godlike co-creator Greg Stolze, adapts the Talent powers of Godlike to the Call of Cthulhu rules, where deteriorating Sanity plays havoc with superpowers that are driven by the human mind.
The second half, written by veteran Godlike author Allan Goodall, presents a complete Achthung! Cthulhu adventure featuring Godlike's Talents, with stats for both Call of Cthulhu and Savage Worlds. (Savage Worlds players will need the Savage Worlds Super Powers Companion.) Arc Dream's Shane Ivey will oversee development and Modiphius will illustrate, design and publish the book.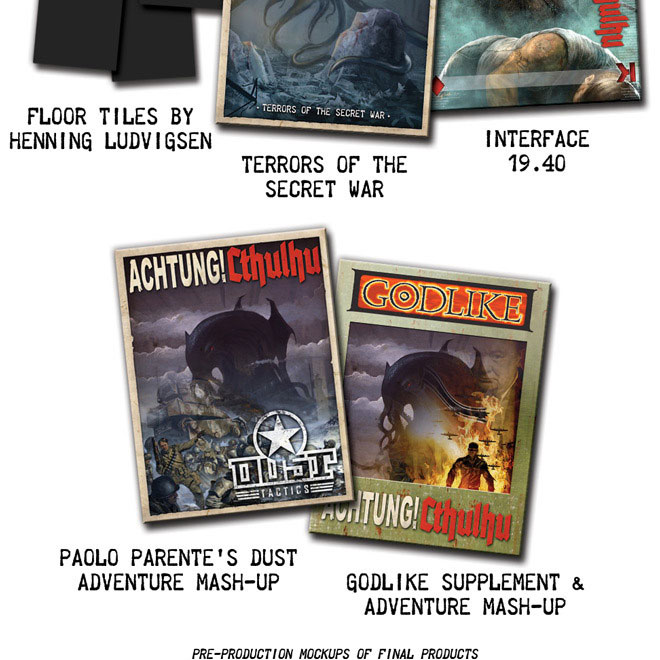 Achtung! Cthulhu: The Power of the Gods was funded as a stretch goal for the fundraiser for the Acthung! Cthulhu! Keeper's Guide and Investigator's Guide. It blew past that stretch goal after only a day and the project is now on Arc Dream's docket!
You can reserve it now as part of the PDF Master Bonus Level for £35 (about $54), which includes a vast amount of Achtung! Cthulhu resources. Or you can reserve it in print as an add-on for  £15 + shipping. The fundraiser ends April 2, 2013. Move fast.