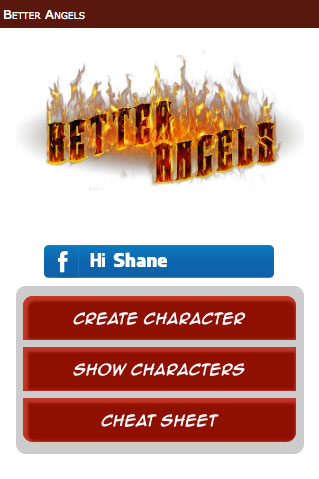 See all your Better Angels villains and heroes in the palm of your hand.
The Better Angels mobile app allows you to:
Enter stats for all-new characters and save them in an online database.
Modify characters as their sinful and virtuous strategies and tactics change in play.
Look up complete stats for tons of pregenerated characters from the rulebook and from the Arc Dream Publishing website.
Modify and customize those pregens for your own use.
Look up key rules right inside the app.
Just log in with a Facebook account to save character data and share your Better Angels adventures with us at Arc Dream's Facebook page.
See the Better Angels app here. Remember to save it to your phone's or tablet's home screen for easy access.
A million thanks to Andrew Stevenson for developing this tool for Better Angels, Greg Stolze's game of demon-powered supervillainy and over-the-top EEEVIL. And a billion thanks to the backers of Better Angels on Kickstarter, which allowed us make the app — and the game — a reality.