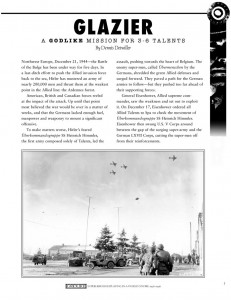 We have given Dennis Detwiller's classic GODLIKE demo scenario "Glazier" a thorough update. It's available as a free download now.
"Glazier" features an ad-hoc team of Talents drawn from across the Allied nations and armies in the confusion of the Battle of the Bulge. Those pregenerated player characters have had their stats, skills and powers updated according to the guidelines of the paperback and PDF edition of the GODLIKE core rulebook, so they can be fitted into any GODLIKE campaign smoothly. They include:
Captain Artus Lund, a Belgian who has no overt superpowers but is exceptional at everything he does.
Staff Sgt. Steven Bransen, U.S. army mechanic, who is superhumanly strong and tough.
Sergeant Harold Wissenkopf, a Polish commando who can kill with a glance.
Corporal Maxwell Jennings, a young American soldier who can create a duplicate of himself.
Private First Class Roland "Flyboy" Fitzsimmons, who can fly as long as he is reciting an Act of Contrition.
Private Maurice "Bakelite" Grenier, who can make solid, inanimate matter invisible.
Those soldiers are pulled together to take on a German Talent whose superpower is particularly devastating on the battlefields of World War II: it turns the steel of American and British tanks and guns to fragile glass.
We've  edited "Glazier" thoroughly, corrected many minor errors, and added a few tips here and there to enhance game play, along with a few public-domain photos of the setting to set the tone.
Download "Glazier" and the GODLIKE quickstart collection — or the rulebook itself, in PDF or in paperback with a free copy of the PDF — and play GODLIKE today.