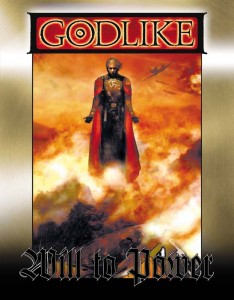 Back before Dennis Detwiller and I launched Arc Dream Publishing, he put together the first sourcebook for GODLIKE: Superhero Roleplaying in a World on Fire, 1936-1946. The sourcebook, Will to Power, detailed the Nazi programs to detect, utilize and foster Talent powers in all their grim ugliness. But that was only part of it. Will to Power also had a 44-page appendix with a host of new rules to expand Godlike games, with contributions by Matthew Widener and Colin Chapman.
Will to Power was published by Hobgoblynn Press (later EOS-Sama), but Arc Dream bought all stock and sales rights when we acquired exclusive publishing rights to Godlike from Hobgoblynn in 2003. Hobgoblynn printed a very large run of Will to Power, and that's why the book still shows their logo after all these years.
Now, for the first time, it's available in PDF.
Here's a breakdown of what's included in Will to Power.
Part 1: Overview (6 pages)
The overview introduces RuSHA SA, the Nazi program to study the parahuman powers of Talents, and establishes its relationship to the Nazi Party and to the SS. These details form part of the background of every Talent-powered Übermensch of the Third Reich.
Part 2: Man, then Super-Man (5 pages)
This is a biography of Konrad Rahn, der Flieger. He emerged at age 21 as the world's first known Talent, flying into the Olympic arena to stand by Hitler's side. For two long years he was the only Talent in the world. Then Pevnost appeared in 1938, and others followed, and the entire world changed forever.
Part 3: Rationalizations (11 pages)
This chapter details the practices and leaders of RuSHA SA, including its spurious attempts to tie Talent powers to racial classification and its gruesome projects to attempt to awaken Talent power by torture and find the root of it by vivisection. Its efforts were misguided and futile, much to the benefit of the free world.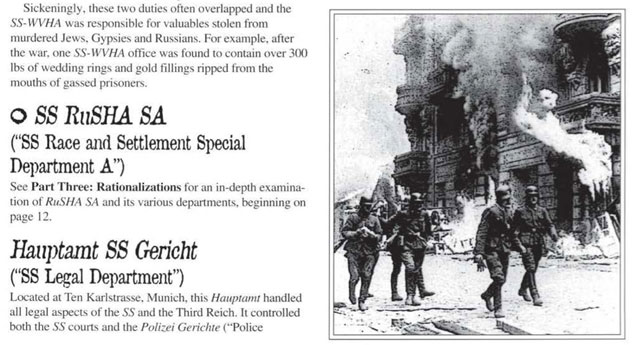 Part 4: SS-Überkommandogruppen (9 pages)
The Talents of the Third Reich were almost entirely under the control of the SS, Hitler's personal bodyguard which expanded to include an army loyal only to him. This chapter describes the SS and its eventual deployment of Talents in Überkommandogruppen, or super-commando groups.
Part 5: Before Consolidation (4 pages)
After der Flieger, the next few German Talents appeared in the ranks of the army — unlike der Flieger, they were not Hitler's personal pets. That quickly led to a struggle over control of the Übermenschen that mirrored Hitler's struggle to bring the German military entirely under his thumb.
Part 6: Battles (4 pages)
This chapter surveys Germany's Talents at war, from der Flieger's demolition of the Polish air force in 1939 to the formation of an entire army of Talents, SS Überkommandogruppe Heinrich Himmler, as a last, futile gesture in the Battle of the Bulge.
Part 7: Allied Intelligence (3 pages)
The Allied intelligence agencies were as fractious as their often-bickering nations. This short chapter discusses their efforts to understand the German Talent program and its findings.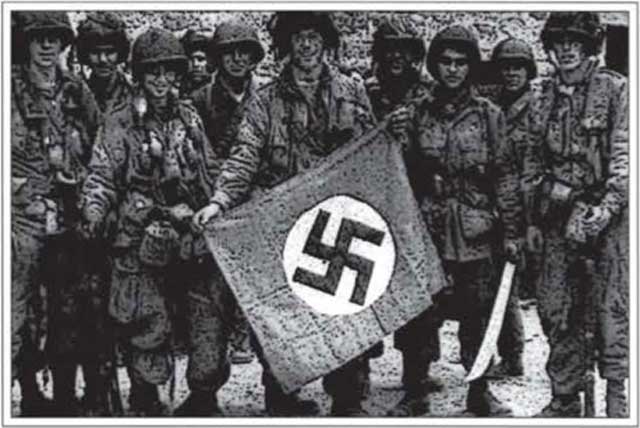 Part 8: Targets of Opportunity (17 pages)
This chapter gives stats and background dossiers on 18 Übermenschen:
Der Archiv ("The Archive")
Der Auge ("The Eye")
Der Feuermann ("The Fireman")
Der Flieger ("The Airman")
Der Nebel ("The Fog")
Der Reisende ("The Traveler")
Der Seefahrer ("The Seafarer")
Der Schildkröte ("The Turtle")
Der Schreck ("The Terror")
Der Springer ("The Jumper")
Der Tragheit ("The Inertia")
Der Ziegel ("The Brick")
Doppelgänger
Dunkelheit ("Darkness")
Feuerzauber ("Fire Magic")
Gunter Koen
Herkules
Jäeger ("Hunter")
Part 9: Equipment, Weapons, and Tactics (9 pages)
This chapter details typical gear and training of the Talents of the SS, including generic stat blocks, rules for silencers and sniper scopes, and new weapons including the "Sunflower" magnesium grenade.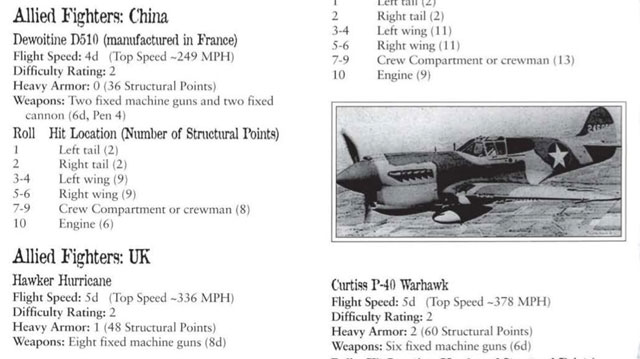 Part 10: New Rules for Godlike 
This extended appendix adds a number of new rules, some of which (the new powers, extras, and flaws) were later incorporated into the paperback and PDF edition of the core rulebook.
Aircraft Combat (21 pages): Colin Chapman wrote this detailed set of rules for aircraft and air combat, which uses speed ratings, maneuver difficulty ratings, and simplified weapon attack dice pools to describe dogfights and strafing runs. It also includes aircraft details and stats from every corner of the war.
New Powers, Extras, and Flaws (4 pages): Size Shift, Plasticine Touch, and Unconventional Move all debuted here, along with more than a dozen new extras and flaws.
New Optional Rules (10 pages): Matthew Widener wrote this grab-bag of options.
WIth the "Flesh Wounds" rule, a hit where all attack dice are odd is a graze that does half damage.
The "Killing Disposition" rules allow you to generate a dice pool for a character to determine how likely he or she is to actually try to kill a target in combat, as opposed to simply posturing, faking it, or quitting altogether.
The "Battle Fatigue" rules track the impact on characters of being exposed to combat for weeks on end—long-term trauma beyond the acute panic of failing a Mental Stability roll.
Detailed Hit Locations (9 pages): Matthew Widener also wrote this detailed look at the kinds of gruesome trauma that Godlike damage represents. What does that two points of Killing damage to the head mean for your character? With any luck it won't call for the "Eye Damage" section of the "Center of the Face" location.
Index (4 pages)
Finally there's a basic index of key names and phrases.
Now Available in Hardback and PDF
From now on, if you buy the hardback of Will to Power, you can get the PDF from us at no additional cost. And for the time being, the PDF is available under a "Pay What you Want" model. So if you bought the hardback years ago, download the PDF from RPGNow or DriveThruRPG with our blessing. Download it now and see how your players face the worst of the Axis war machine.