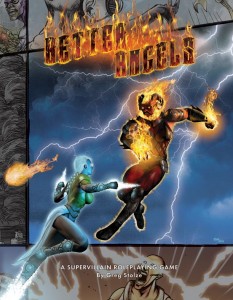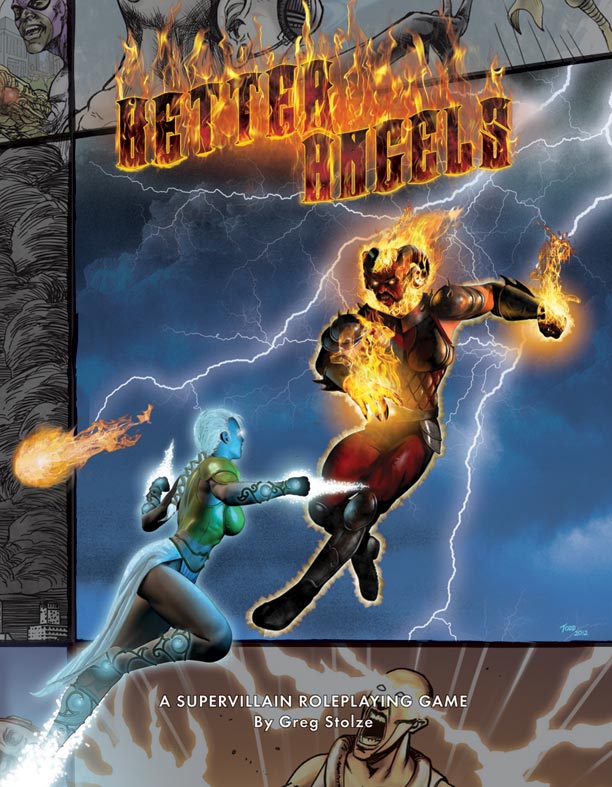 Written by Greg Stolze, © 2013
A sinister story seed lays the groundwork—genesis, exodus, and a shocking revelation—for an evening of fun and corruption in Better Angels. The GM should draw up stats for one or two crucial NPCs as needed based on the abilities and attitudes of the player characters. Put the Hellbinders and their Screwtapes into the mix and watch what happens.
The Dark Blight Rises
The superheroine Doctor Sapphire has a plan for redemption.
Genesis
Doctor Sapphire is nominally a superheroine, but any PC who gets close realizes it's a demon that provides the powers necessary to fight evil (or, y'know, whatever it is she's fighting today). She's about on par with the PCs, maybe a little bit tougher, but she actually wants to ally with them. She needs help.
Exodus
Doctor Sapphire's ambitious project is the inverse of "Fall Comes 'Round Again." She explains that the forgiveness of God is truly boundless and that redemption awaits for demons who show true contrition. Her plan is to build a machine that demonstrates her dedication, run herself through it, and become once more the angel that she was. PCs who help her can do the same!
While Sapphire and her mortal are happy to put in the time, effort and sweat equity to build the actual device, she can't do it alone. She needs the PCs to run interference between her and rivals (mortal, demonic and angelic), protect the lair where she's building the gadget, and get her the complicated elements needed for the machine. (What does she need? Oh, weapons-grade plutonium, a feather from a manifested angel, a swatch of body hair from an honest politician. Or anything you think might present a good balance of challenge and amusement.)
(If asked how one builds a device to restore angel nature, using an ability that says 'Devilish Creativity' right there on the label, she explains that the purpose of the material world was always to refine the base and impure into higher spiritual elements. Think of it like this: Humans eat food to grow big enough to create new humans, and those new humans can then act with righteousness. The physical realm is an engine that can turn hot dogs and cokes into moral agency. Of course you can build an angel-fixing machine with it!)
Revelation
As it happens, she's absolutely insane, demon and mortal alike. She truly believes she can use her machine to make it all-righty with the Almighty, but betraying the PCs has been part of the plan since day one. After all, to drag a human to Hell requires a pentacle made of the intestines of five innocents. Remitting a demon's soul to Heaven must require a pentacle made of the guts of five great sinners!
(Boy, how is she planning to take down five demons? Strike when they're weakened from plucking that angel feather? Lay into them with a coordinated strike by dozens of minions? Or does she have some other invention she's been keeping up her sleeve the whole time?)
Written by Greg Stolze, © 2013