Arc Dream Publishing needs game moderators to run events at GenCon 2013, August 15-18.
Arc Dream Publishing is a Premier Event Group at GenCon, and in recent years we've had the luxury of having all our events in the same dedicated space. We want to make an even bigger splash in 2013.
To sign up, please email shane.ivey@gmail.com.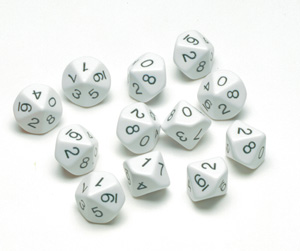 What You Get
As a registered Arc Dream GM you'll get "store credit" at the Arc Dream Publishing booth in the exhibit hall. That means free stuff! For each event ticket that you collect from a player in your game and turn in at the booth, we'll give you $5 in credit. So if you run two games for six players each and turn in all 12 tickets, that's worth $60 in Arc Dream games and books! ("Store credit" must be used at the booth at GenCon 2013.)
If you run at least three games, you'll also get a free GenCon badge.
Requirements
Check In: You must check in at the Arc Dream Publishing booth at the exhibit hall. We'll give you some promotional supplies to hand out to the players at your event, such as coupons they can redeem at the booth or at our online store.
Collect Tickets: You must collect event tickets at the game and turn them in at the Arc Dream Publishing booth in the exhibit hall. This is important! To maintain our Premier Event Group standing we need to turn in all tickets from our events.
Priority Deadline: February 8
The deadline for early submissions — those get priority placement, so they are a big deal for us — is February 8th. That means you need to sign up and work out all the details with us at least a couple of days before then, so we can make sure everything is correct in GenCon's system.
Final Deadline: March 15
The final deadline for event submissions is March 15. We'll still welcome events by then, but it will be even better if you send them ahead of the February 8 deadline.
What to Run
We need GMs for any and all of our games and settings. The first few, in bold, are the highest priority for us because they tie into newer products.
A few of those are so new that they're not yet available to the public, or they're set to debut just before GenCon. In those cases we will make materials available to you ahead of time.
In most cases you can run a scenario of your own or something we've already published, whichever you like. (Exception: For The Unspeakable Oath we're keen to have players run adventures that appeared in the magazine.)
Delta Green (Call of Cthulhu)
Better Angels
Drachenritter
Godlike (especially Bloody Omaha and The Courtyard of Hell)
Call of Cthulhu scenarios from The Unspeakable Oath
Trail of Cthulhu scenarios from The Unspeakable Oath
A Dirty World
Monsters and Other Childish Things
Reign
eCollapse (Wild Talents)
Grim War (Wild Talents)
Progenitor (Wild Talents)
This Favored Land (Wild Talents)
The Kerberos Club (Wild Talents, Savage Worlds, or FATE)
The World Gone Mad (Wild Talents)
Nemesis
Sign Up Now
To sign up, please email shane.ivey@gmail.com ASAP.
Please send us this information:
Game system.
Scenario title.
Your email address as listed in the GenCon events system.
A brief summary for the website (3-4 sentences).
An even briefer sumary for the program book (1 sentence).
Which days and times you are available to run the scenario.
If you prefer to register the event in GenCon's system yourself, that's fine too! Just send us the event title and number by the deadline and we can get GenCon to count it as an official Arc Dream event.
Thank you!