It has finally happened. Delta Green, the award-winning modern setting for Call of Cthulhu, long out of print and always in demand, is now available from Pagan Publishing in PDF for instant download and in print-on-demand paperback and hardback.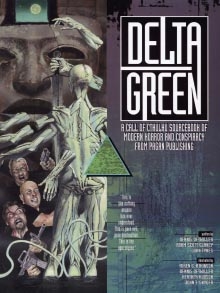 Delta Green
Delta Green got its start in the pages of The Unspeakable Oath in 1993. Published as a mammothCall of Cthulhu sourcebook, it won the Origins Award Best Supplement of 1997.
Delta Green: Countdown
The even more mammoth sequel to Delta Green won the Origins Award for Best Supplement of 1999.
Delta Green: Alien Intelligence
The first collection of Delta Green fiction featured stories by Bruce Baugh, Dennis Detwiller, Adam Scott Glancy, Bob Kruger, Blair Reynolds, Greg Stolze, John Tynes, and Ray Winninger.
Delta Green: Dark Theatres
Eight more searing stories of horror and conspiracy.
According to Pagan Publishing's Adam Scott Glancy, Delta Green: Eyes Only and Delta Green: Targets of Opportunity will be available in PDF and POD soon.