We have word from REIGN creator Greg Stolze:
Third Year of Our REIGN is now available for purchase, and the compiled PDF is completely free.
Currently, there are three ways to get it.
First off, there's the aforementioned PDF.
If you want something you can hold in your hand, but wouldn't feel too bad if a soda spilled on it, you can get the softcover, which has a black and white interior. (Please ignore that it's listed as a "softbak" — I mis-typed and it won't let me change it.)
Finally, there's the luxe, plush, fit-for-the-1% full color hardback.
If you prefer to buy from IPR, it should have copies of the softcover in less than a month.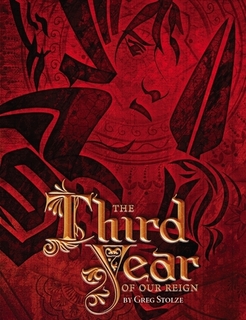 That's all the REIGN news, so if you're only interested in the One Roll Engine, you can just stop reading now.  But if you're curious about my other work, there are maybe three things you'll want to do.
1) Sign up for the broader mailing list that covers EVERYTHING I do.  Just send an email to gregstolze@comcast.net and tell me you want on the general fanlist.
2) Check out the fund-raiser for "Emily Speaks."
3) Or investigate my novel SWITCHFLIPPED.
Thanks!
-G.