UPDATE: Click here by July 24 to vote for Arc Dream in the 2011 Ennie Awards!
This morning we were proud to have several of our works nominated for the 2011 Ennie Awards.
There are a few tabletop RPG industry awards out there, but getting nominated for the Ennie Awards is always especially satisfying for me. The Ennies are ultimately awarded based on an online vote — whoever gets the most votes on the website takes home the prize. But the nominees are selected not based on sales or audience size but based on their quality as judged by a panel of gamers and professionals who are passionate about gaming.
Arc Dream is a boutique publisher. Even by the modest standards of tabletop RPGs we have barely any presence at all in retail stores or among the market at large. We have always gotten by thanks to the support of a small number of gamers who share some of our particular sensibilities. We treat game design more like an art than a business — which is to say, we care a great deal more about the quality of what we write and design than we do about expanding our market share. That means, of course, that our share of a shrinking market always seems to be shrinking; but we're very proud of the work that we produce. And that makes Ennie nominations particularly meaningful.
Delta Green: Targets of Opportunity — Best Adventure, Best Writing
There have been four major game sourcebooks published for Delta Green (plus three small chapbooks that were collected for one of the bigger books). The first two, Delta Green and Countdown, came out in 1997 and 1999. They both won Origins Awards — the other major awards for this industry — for best game supplement. After a long hiatus, Dennis Detwiller and I worked it out with Pagan to jumpstart the Delta Green line, with Eyes Only in 2007 and Targets of Opportunity in 2010, books produced by Arc Dream and published by Pagan.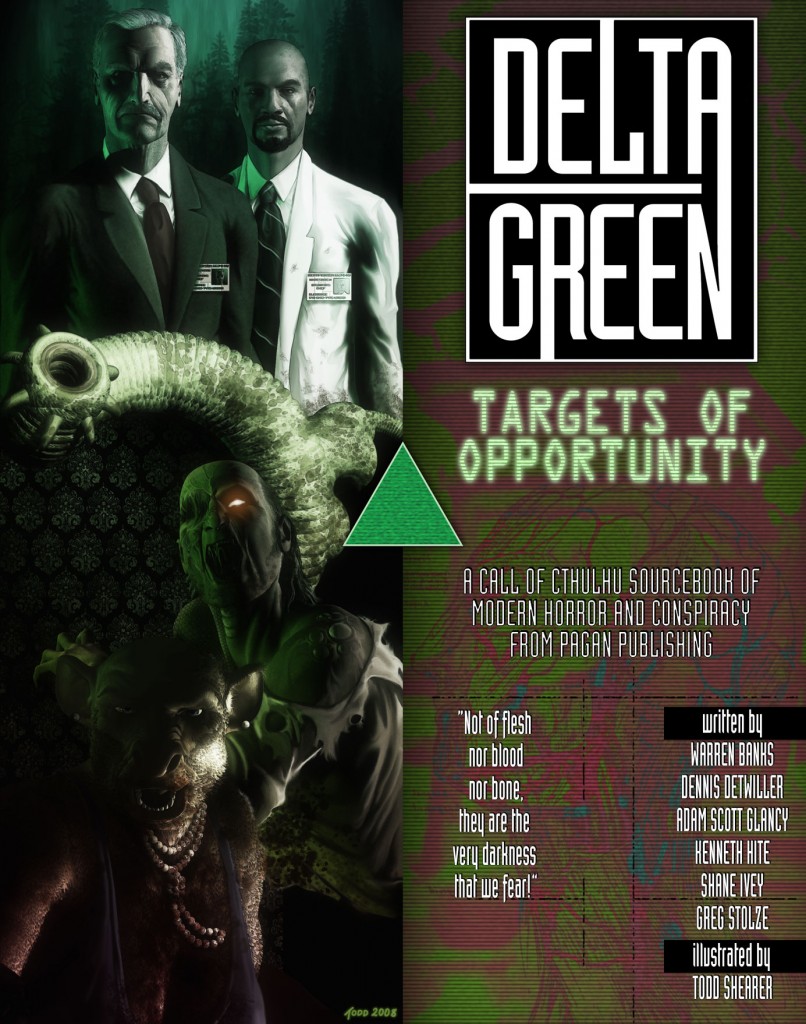 Eyes Only received an Origins nomination in 2007 but it didn't have a prayer of winning and even its nomination was a shock. The Origins Awards are nominated by a vote of retailers who attend the GAMA Trade Show and are awarded by vote of attendees of the Origins Game Fair. Games usually need very strong retail presence (and enough of a retail marketing budget to show off at the GAMA Trade Show) and broad market appeal to get anywhere. In 2007 I hadn't started submitting products to the Ennie Awards. Having the Origins nod — for a product which at that point had not been released into regular retail distribution at all — was a surprise and an honor.
Targets of Opportunity was a tough project. It was the first release of all-new Delta Green material in more than 10 years. That alone was daunting. And it took a long time. When you spend as much care as we do on making the material as good as it can be, that magnifies the time it takes to complete a project. And this was a large book with material by a lot of authors. It came out much, much later than we planned. That earned us a lot of grief from impatient customers who'd paid to support it at Fundable and to preorder it based on overoptimistic early projected release dates. But once it was finally out and in people's hands, the response has been extremely positive — occasionally hearing the phrase "worth the wait" is really sweet in this case.
Considering the Delta Green pedigree and the amount of work I personally put into Targets of Opportunity, I'm really glad to see it nominated alongside the work of such talent-heavy studios as Evil Hat, Pelgrane, Posthuman, Paizo and White Wolf.
Monsters and Other Childish Things: Road Trip — Best Adventure
Many of our writers are award-season veterans, but I believe Road Trip marks the first Ennie Award nomination for author Ross Payton. He earned it. Road Trip is a massive campaign of nine interconnected adventures for Monsters and Other Childish Things.
Monsters sometimes leave gamers saying how cool it is but they aren't sure what kind of adventures to hold. Road Trip has enough adventures to entertain you and your monstrous friends for months.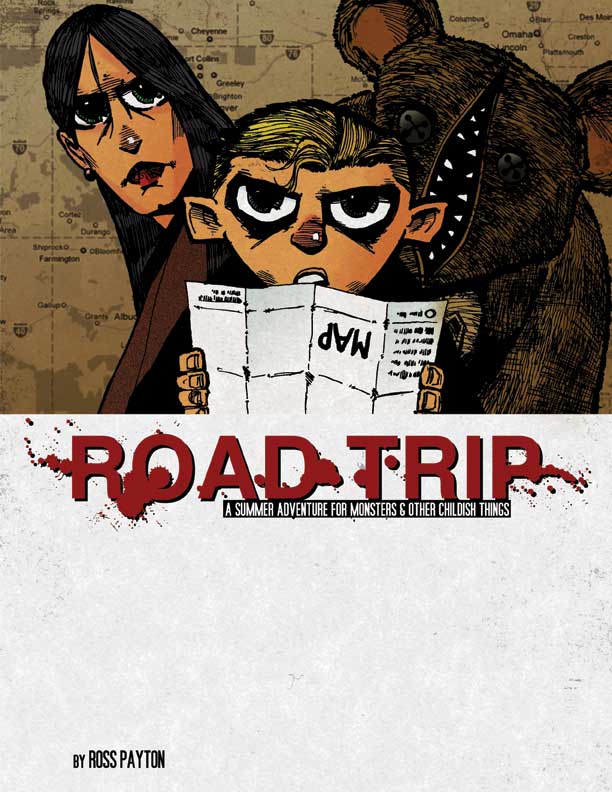 Monsters and Other Childish Things, written by Benjamin Baugh, itself got a whole host of Ennie nods a few years back. Its sequel The Dreadful Secrets of Candlewick Manor earned Ennie nods of its own. It is great to see Road Trip continue a fine tradition.
And it's especially fun because Ross is my cohost on Unspeakable!, the podcast of The Unspeakable Oath. Guess what we'll be talking about when we record the next episode Sunday?
Progenitor — Best Setting
I've written before about my particular love for Progenitor, a massive Wild Talents setting by Greg Stolze.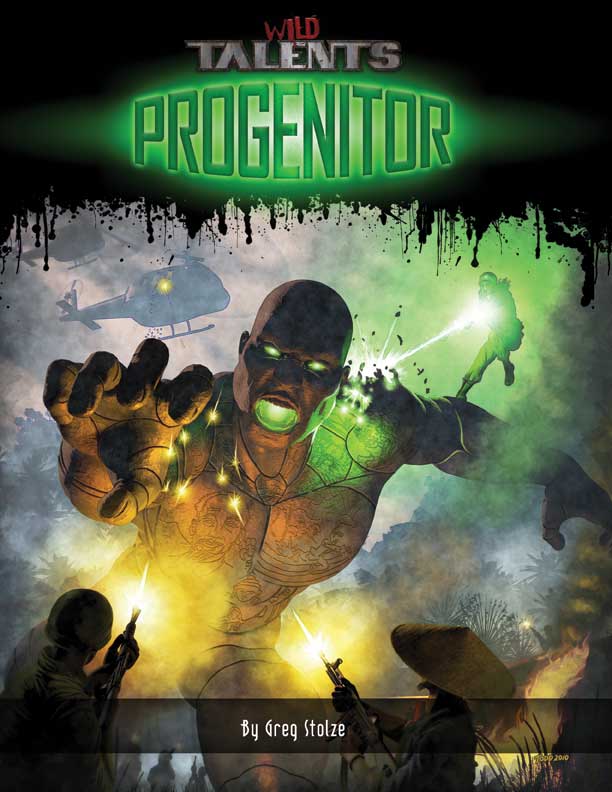 Greg put an amazing amount of work into creating Progenitor, and he and I both worked hard pulling it together during playtesting and afterward to create a setting book that positively sings with depth and quality. I'm as proud of Progenitor as I am of anything Arc Dream has produced and would happily stand it up alongside any superhero setting around. I am thrilled to see it recognized by the folks at the Ennies.
We have several Progenitor adventures in the pipe. You'll see more from this setting soon.
The Unspeakable Oath — Best Aid/Accessory
Ah, the Oath. The magazine where it all began for me. I never had a thought toward working in the tabletop RPG industry — and then I spent a few years playtesting and proofreading for The Unspeakable Oath, and then for Pagan Publishing's other projects, and then it just sort of exploded from there. The Oath had been on hiatus for ten years when Dennis and I finally managed to get everybody on board to have Arc Dream resurrect it with the blessings and active participation of Pagan Publishing and its founder, John Scott Tynes.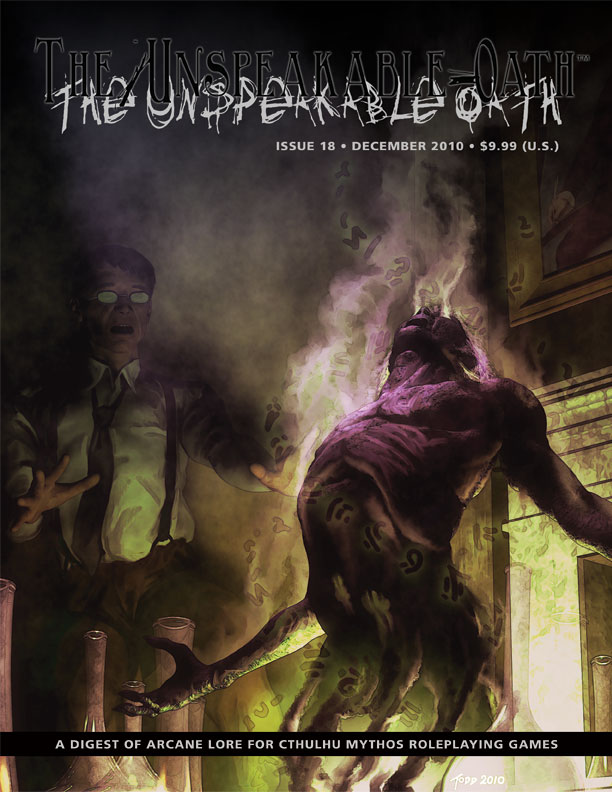 The Unspeakable Oath caters to die-hard fans of Cthulhu Mythos roleplaying games. We take submissions from anybody but every submission goes through a filter of editors who know the genre well and who are perfectionists when it comes to putting new stuff out there. Nothing goes in the Oath unless none of us think it stinks and several of us think it's terrific. It's exactly the magazine I would be dying to read if I didn't happen to be running it myself.
If you're curious how the debut issue of the new run turned out, you can read all of it online at issuu.com.
The Oath has a fairly narrow slice of the tabletop RPG audience — Call of Cthulhu fans (we've had material for Trail of Cthulhu, too) who are hardcore enough to either subscribe to a magazine or to come looking for it once every few months. Its recognition by the Ennie Awards is a huge honor.
Get Ready to Vote!
Congratulations to all the writers, artists, designers and editors who helped make these great books. They earned the accolades.
And congratulations as well to our fellow nominees in the 2011 Ennies. They may be our competition in several categories, but we've worked with many of them and are friends with most of them.
If you think Road Trip, Progenitor, The Unspeakable Oath or Targets of Opportunity deserves to win, please cast your vote (and encourage all your friends to vote, too!) when Ennies voting goes live on Friday, July 15.
In the meantime, you can click here to suggest Arc Dream as Fan Favorite Publisher. (And don't forget to mention our partners at Pagan Publishing and Cubicle 7 Entertainment in those other slots.)
We'll see you at the awards show at GenCon.